Sepulangnya dari retret mengembara selama hampir 4.5 tahun, Mingyur Rinpoche telah kembali mengawali aktivitas pengajarannya ke seluruh dunia sejak Mei 2016. Di bulan Oktober, Mingyur Rinpoche akan mengunjungi Indonesia dan akan memberikan Public Talk dan workshop Meditasi. Merupakan kesempatan berharga apabila dapat bertemu dan mendapatkan pengajaran langsung dari Beliau yang dijuluki sebagai "Manusia Paling Berbahagia Di Dunia".
After the successful completion of his four-and-a-half years of retreat as a wandering yogi in the Himalayas, the Venerable Yongey Mingyur Rinpoche has once again embarked on a worldwide teaching tour since May 2016. This October, He will come to Indonesia to give public talks and lead meditation workshops. It is precious opportunity to be able to meet and get teaching transmission directly from Him, whom scientist called: "Happiest man on Earth."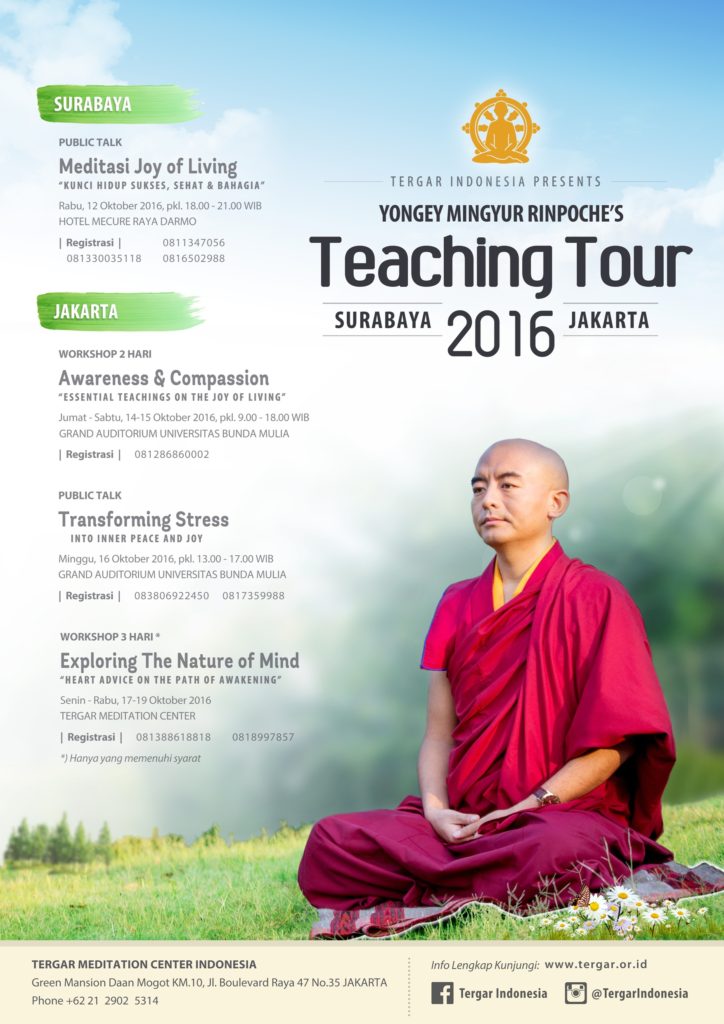 Jadwal Lengkap Tour Indonesia
SURABAYA – Public Talk:
Joy Of Living Meditation "Kunci Hidup Sukses, Sehat & Bahagia "
Rabu, 12 Oktober 2016, 18.00 – 21.00
Venue : Mercure Hotel, Raya Darmo, Surabaya (location)
Registration :
081 134 7056 |  081 3300 35118 |  081 650 2988
JAKARTA
a. Meditation Workshop: Awareness and Compassion – Essential Teachings on The Joy of Living
Jumat – Sabtu, 14 – 15 Oktober, 09.00 – 18.00
Venue : Grand Auditorium Universitas Bunda Mulia (location)
Registration : 081 2868 60002 , 0896  1506 0240
Email : registrasi.jol@tergar.or.id
Workshop ini menawarkan kesempatan langka untuk menjelajahi praktik meditasi dengan Yongey Mingyur Rinpoche, yang merupakan pertama kalinya Beliau akan menyajikan esensi dari ajaran Joy of Living dalam format ini. Rinpoche juga akan berbagi wawasan mendalam dari pengalaman pribadi Beliau dan akan menjelaskan poin-poin kunci dari pengolahan kesadaran, cinta kasih dan welas asih. Beliau juga akan memperkenalkan elemen-elemen baru yang Beliau praktekkan dalam menjalani retret panjangnya, termasuk latihan pernafasan dan olah tubuh.
Lebih lanjut ttg Workshop ini | Unduh Formulir Registrasi
This teaching offers a rare opportunity to explore the practice of meditation with Yongey Mingyur Rinpoche. This is the first time that he will present the essence of the Joy of Living teachings in this format, sharing insights from his own experience and illuminating key points on the cultivation of awareness, loving-kindness, and compassion. He will also introduce new elements that he himself practiced during his extended retreat, including breathing practices and physical exercises.
Read more About this Workshop   |  Download Registration Form
b. Public Talk: Transforming Stress into Inner Peace and Joy
Minggu, 16 Oktober, 13.00 – 17.00
Venue : Grand Auditorium Universitas Bunda Mulia (location)
Registration : 083806922450, 0817359988
c. Meditation Workshop : Exploring the Nature of Mind ~ Heart Advice on the Path of Awakening
(Hanya bagi yg memenuhi syarat | only for those who meet requirements)
Senin – Rabu, 17 – 19 Oktober, 09.00 – 18.00
Venue : Tergar Meditation Center (location)
Registration : 081 3886 18818 |  081 899 7857
Email : registrasi.pol@tergar.or.id
Merupakan kesempatan yang langka untuk dapat menerima panduan secara mendalam dari Yongey Mingyur Rinpoche untuk melihat hakekat batin (Nature of Mind). Ajaran Hakekat Batin ditarik dari jalur Mahamudra dan Dzogchen, ajaran meditatif yang paling mendalam dari silsilah Kagyu dan Nyingma dari Buddhisme Tibet. Sebagai tambahannya, Mingyur Rinpoche juga akan memberikan ajaran mengenai Latihan Fondasi/pendahuluan (Ngondro), rangkaian meditasi yang membantu melepaskan pola kebiasaan yang menghalangi pengenalan hakekat sejati diri kita. Pada hari terakhir workshop ini, Mingyur Rinpoche akan memberikan Visudhi Trisarana (Upacara mengambil perlindungan kepada Tri Ratna), serta Inisiasi Vajrasattva.
Lebih lanjut ttg Workshop ini | Unduh Formulir Registrasi
This teaching presents a rare opportunity to receive in-depth guidance on the nature of mind from Yongey Mingyur Rinpoche. The nature of mind teachings are drawn from the paths of Mahamudra and Dzogchen, the most profound meditative teachings of the Kagyüand Nyingma Schools of Tibetan Buddhism. In addition to teachings on the nature of mind, Mingyur Rinpoche will also offer teachings on the foundational practices of Tibetan Buddhism (ngöndro), a set of meditations that help undo habits and patterns that keep us from recognizing our true nature. In the last day of workshop, Mingyur Rinpoche will give Visudhi Trisarana (Taking Refuge ceremony to the Three Jewels), and Vajrasattva initiation.
Read more About this Workshop   |  Download Registration Form